NHLA REELECTS EXECUTIVE COMMITTEE, PRESENTS BOLD TW0-YEAR VISION AND STRATEGY ON LATINO PRIORITIES
The National Hispanic Leadership Agenda (NHLA), a 39-member coalition of national organizations representing the interests of the nation's 54 million Latinos, is proud to announce the reelection of its Executive Committee:
· Hector E. Sanchez, Chair, Labor Council for Latin American Advancement
· Thomas A. Saenz, Vice Chair, Mexican American Legal Defense & Educational Fund
· Jessica Gonzalez, Secretary, National Hispanic Media Coalition
· Brent Wilkes, Treasurer, League of United Latin American Citizens
· Al Zapanta, At-Large Representative, United States-Mexico Chamber of Commerce
· Yanira Cruz, At-Large Representative, National Hispanic Council on Aging
· Dr. Juan Andrade, At-Large Representative, United States Hispanic Leadership Institute

During the past decade, the Latino community grew an astounding 49% compared to the rest of the nation's 6%, putting the Latino community at the forefront of the country's electoral process and public discourse. In the next two years, NHLA will:
Launch a full-scale effort to engage presidential candidates from both political parties on Latino priorities
Unveil the 2016 Hispanic Policy Agenda at the DNC and RNC conventions
Iss

ue a scorecard for the 114th Congress that reflect these Latino priorities

Continue its "Latinos United" campaigns, vigorously advocating on public policy issues including: Educational Opportunity, Fair Economy, Healthcare, Immigration Reform, and Voting Rights

Continue promoting greater diversity in public service by addressing the underrepresentation of Latinos in the Federal Government, in Presidential and State Appointments, and in elected office via LatinasRepresent

Undertake a project to analyze Latino paths to power, understand what Latino power looks like in the future and develop a framework to meet our goal of increasing Latino influence.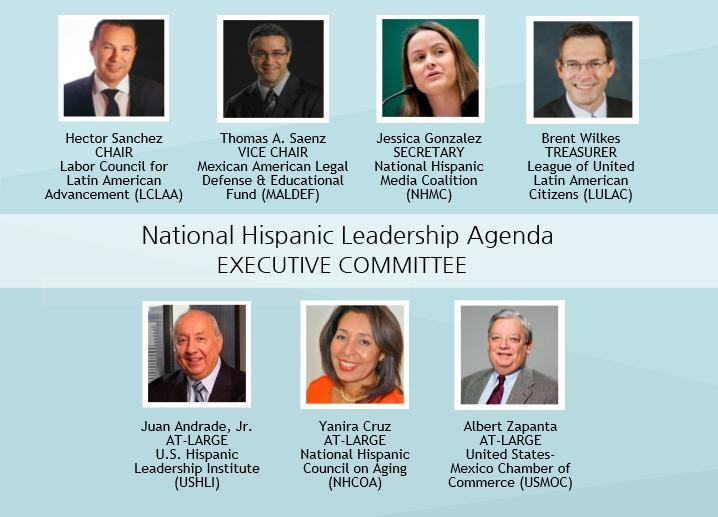 "As we look forward to 2016, when the Latino vote once again promises to prove decisive in the electoral outcome, the work of NHLA in informing and representing the Latino community nationwide is increasingly critical," stated Thomas A. Saenz. "I am honored to serve as NHLA Vice Chair in these pivotal times."
"I look forward to serving another term with my partners in NHLA, to lift the voices and advance the well-being of Latinos across the country," said Jessica Gonzalez, Secretary of NHLA.
Upcoming NHLA Member Events
Jun 13-14
LCLAA Regional Conference, Miami, FL
Jun 16
Latino Justice PRLDEF- Latina Trailblazers Awards, New York City, NY
Jun 17-19
NALEO 32th Annual Conference, Las Vegas, NV
Jun 25-26
National Association of Latino Independent Producers-Media Summit, West Hollywood, CA
Jul 7-11
LULAC 2015 National Convention, Salt Lake City, UT
Jul 11-14
2015 NCLR Annual Conference, Kansas City, MO
Copyright © 2015 National Hispanic Leadership Agenda, All rights reserved.
You signed up to receive the announcements from us on our website nationalhispanicleadership.org.