PRESS RELEASE
FOR IMMEDIATE DISTRIBUTION
June 5, 2013
Effort Designed to Aggressively Identify, Prepare and Support Latino, Latina Professionals for Appointments to the Highest Levels of Government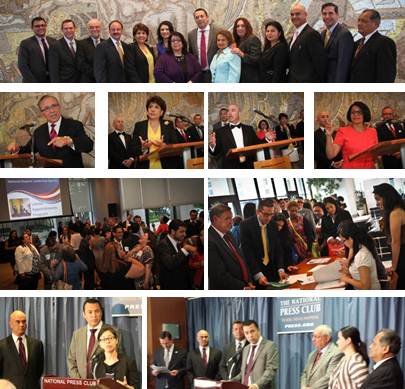 WASHINGTON, D.C.—Today, the National Hispanic Leadership Agenda (NHLA), a coalition of 34 preeminent Hispanic organizations in the United States, announced its national advocacy campaign to increase Federal and state-level Latino Appointments. Although Latinos have grown in population and political power throughout the United States, the number of Latinos appointed on the federal and state executive levels remains dismal. The NHLA will undertake a federal appointments advocacy effort and the first-ever national campaign to increase the number of state executive level Latino appointments in key Latino populated states throughout the country.
NHLA's Latino Appointments Program will prioritize four key projects:
1) Developing and supporting a talent bank of Latino professionals interested in presidential and state-level appointments.
2) Launching a four-state pilot program in key Latino-populated states to tackle the state-level appointment gaps.
3) Cultivating a network of current and former Latino appointees that can serve as a resource to each other and to prospective candidates.
4) Drafting a report to the community on short-term lessons learned and long-term recommendations for strengthening the political pipeline for the Latino community.
"At such a critical time in our nation's history, we must work harder than ever to ensure that Latinos have a seat at the decision-making table," remarked Hector Sanchez, Chair of NHLA and Executive Director of LCLAA. "NHLA's Latino Appointments Program is a historic step towards acknowledging long-standing disparities in the government. By building this infrastructure around presidential and state-level appointments, developing a talent bank and investing in a comprehensive leadership development program, we hope to be a catalyst to bring more parity into key public service positions."
Since its inception over two decades ago, NHLA has advocated for increased representation of Latinos in the federal government. While Latinos are nearly 17 percent of the U.S. population, they are just 8 percent of the federal career workforce and as little as 3 percent of the employees in several federal agencies according to the U.S. Office of Personnel Management's Eleventh Annual Report on Hispanic Employment in the Federal Government. In addition, in years past, the NHLA Scorecard on Political Appointments has aimed to hold Presidential Administrations accountable for the appointment of Latinos.
With a renewed sense of political power after the November 2012 elections, NHLA knows that the Latino community is well-poised to play a more active role in government.
"Latinos from across the country are ready to put their experience and expertise to work to help move our country forward," said Alex Padilla, president of the National Association of Latino Elected and Appointed Officials (NALEO)."NALEO is proud to work with NHLA to promote the appointment of Latino candidates with the skills and qualifications necessary to serve our country with distinction."
Dr. Juan Andrade, President of the United States Hispanic Leadership Institute (USHLI) said: "The goal is to ensure the Latino community is fostering a generation of professionals who are qualified to follow in the footsteps of former Cabinet Secretaries Ken Salazar, Hilda Solis, Bill Richardson, Federico Pena and others now and throughout Administrations to come."
"The lack of Latinos in key decision-making positions on the federal and state level prevents access to government and programs that contribute to their well-being and success," said LULAC National Executive Director Brent Wilkes. "The success of our nation is inextricably linked to the overall success of the Latino community."
Jessica González-Rojas, Executive Director of the National Latina Institute for Reproductive Health added: "The absence of Hispanics, particularly Latinas, at all levels of government shortchanges the government's ability to produce policies that are inclusive, fair, and responsive to the concerns of our community."
Al Gallegos, President of the National Association of Hispanic Federal Executives said: "The underrepresentation of Latinos in the Federal Government and in the career Senior Executive Service (SES) undermines the necessary continuity of Latinos to manage their own destiny as related to programs that affect all aspects of our society and programs that touch not only Latinos but our society at large. Latino career SES personnel provide the administration, operation and oversight for programs within the fields of; Immigration; the Environment; Health; Law Enforcement; Housing; Education; Civil Rights and many others.
These Latino career SES personnel will provide the continuity within the federal Government to ascertain the effective inclusion of the Latino community within all the programs mentioned above. It will also ensure Latino inclusion in these programs for the remainder of this century and into the future. After all Latino career SES personnel provide service to the Federal Government long after just the 4 years that an Administration lasts."
Ignacio Salazar President and CEO for SER Jobs for Progress National Inc. said, "The Latino Appointments Program (LAP) is a vital initiative that ensures the faces of America today are reflected in our federal government today. Looking forward, this effort will provide much needed resources and a resultant federal workforce that better addresses the needs of community residents and the aspirations of Hispanics looking to make a difference in local communities through federal employment. We encourage all potential applicants to look seriously at the opportunities in federal employment and to encourage others to do so as well.
"On issues like the economy, education, health care and immigration, our federal government largely operates without the perspective of a community that encompasses about one in six Americans," said José Calderón, President of the Hispanic Federation. "Today's launch of the NHLA Latino Appointments Program is a historic step forward toward ensuring that all Americans, including Latinos, have an equal voice in their government. Our country is rapidly changing and building a pipeline for Latinos to serve on this and future presidential administrations is vital to the success of our nation."
Peter Reyes, President of the Hispanic National Bar Association (HNBA) said, "HNBA is proud to be a part of this national coalition to increase the number of Latino candidates for political appointments. This is an important complement to our work on judicial and executive appointments and we strongly encourage our membership and that of our partners to enlist in this effort."
"Together with NHLA, NACOPRW looks forward to opening more doors for Latinos and Latinas to create positive change in our communities," said Vilma Colom, National President, National Conference of Puerto Rican Women. "To have a seat at the table, and to be able to influence and contribute to the policies and decision-making at the executive branches of our government, is a great opportunity for Latinas. I especially encourage Latinas across the nation to explore and consider presidential appointments and state-level appointments in partnership with our program."
"The federal environmental, natural resource, and energy sector is large and still growing, composed of over 20 separate agencies, including major departments like the U.S. Departments of Interior, Energy, Agriculture and Commerce; their many sub-agencies like the National Park Service, U.S. Forest Service and NOAA; and sizable independent agencies like the U.S. EPA and Nuclear Regulatory Commission. Yet there remains insufficient Hispanic diversity in this sector, said Roger Rivera, President, National Hispanic Environmental Council (NHEC). "The NHLA Latino Appointments Program will have a major, positive impact on identifying, recruiting, and spotlighting highly talented Latinos, including NHEC members, doing environmental work. The result will be increased Latino representation in this expanding, critically important arena for both the Latino community and the federal government."
"Government 'by' the people, at both state and federal levels, requires the involvement of talented individuals from all communities; their ideas and experiences foster greater success in serving all of the people," stated Thomas A. Saenz, President and General Counsel of MALDEF. "This Program promises to improve our democracy, to the betterment of all now and in the future."
For more information on the NHLA Appointments program visit LatinoAppointments.org.
Established in 1991, The National Hispanic Leadership Agenda (NHLA) brings together Hispanic leaders to establish policy priorities that address, and raise public awareness of, the major issues affecting the Latino community and the nation as a whole. For more information, please visit www.nationalhispanicleadership.org and follow @NHLAgenda.
###
FOR MORE INFORMATION, CONTACT:
| Melody Gonzales | This email address is being protected from spambots. You need JavaScript enabled to view it. | (202) 508-6917 |
| Lia Seremetis | This email address is being protected from spambots. You need JavaScript enabled to view it. | (202) 587-4936 |
__________________________________________________________
American GI Forum | ASPIRA Association, Inc. | Casa de Esperanza | Cuban American National Council | Farmworker Justice | Hispanic Association of Colleges & Universities | Hispanic Federation | Hispanic National Bar Association | Labor Council for Latin American Advancement | Latino Justice PRLDEF | League of United Latin American Citizens | MANA, A National Latina Organization | Mexican American Legal Defense & Educational Fund | NALEO Educational Fund | National Association of Hispanic Federal Executives | National Association of Hispanic Publications | National Association of Latino Independent Producers | National Conference of Puerto Rican Women | National Council of La Raza | National Hispana Leadership Institute | National Hispanic Caucus of State Legislators | National Hispanic Council on Aging | National Hispanic Environmental Council | National Hispanic Foundation for the Arts | National Hispanic Media Coalition | National Hispanic Medical Association | National Institute for Latino Policy | National Latina Institute for Reproductive Health | National Puerto Rican Coalition, Inc. | SER – Jobs for Progress National, Inc. | Southwest Voter Registration Education Project | United States Hispanic Chamber of Commerce | United States-Mexico Chamber of Commerce | U.S. Hispanic Leadership Institute