NATIONAL LATINO LEADERS WELCOME PRESIDENT'S ADMINISTRATIVE ACTION ON IMMIGRATION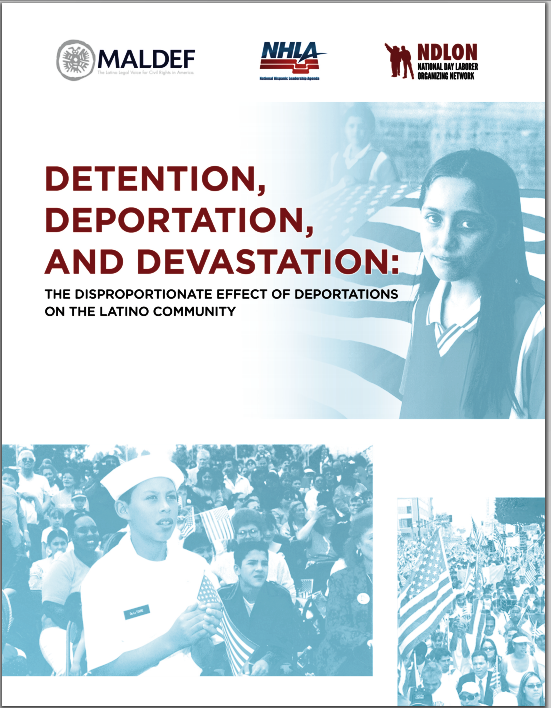 The National Hispanic Leadership Agenda (NHLA), a coalition of 39 of the nation's preeminent Latino organizations, welcomed President Barack Obama's announcement, which he elaborated on in Las Vegas today, to grant affirmative relief from deportation to nearly five million undocumented immigrants, and vowed to continue to advocate for just, humane and inclusive immigration policy in the United States.
"We are very pleased that the President is taking action to enable millions of families to remain united, step out of the shadows, fully contribute to the life of our communities and the nation, and find protection from further exploitation. The President's actions, however, do not fully mend our broken and dysfunctional immigration system. Only robust and comprehensive bipartisan action by Congress will provide the permanent relief necessary for the twelve million undocumented immigrants living with uncertainty and fear of family separation," said Hector Sanchez, NHLA Chair and Executive Director of the Labor Council for Latin American Advancement. "We encourage the Administration to implement this program in an expeditious and inclusive manner and to collaborate closely with Latino stakeholders in developing the procedures to execute this program. In the meantime, we will continue to urge Congress to take constructive action, and will continue to advocate for the parents of DREAMers who received relief under Deferred Action for Childhood Arrivals (DACA), LGBT individuals with no familial relationships, and farmworkers who will not be able to benefit from the President's executive action."
"In making this announcement, President Obama acts in a tradition of executive leadership extending back decades in the context of immigration regulation and centuries in the inherently related context of international relations. It is appropriate and necessary that the President exercise his undoubted constitutional and statutory authority to implement affirmative immigration relief. The President's action builds upon the previous – and markedly successful – affirmative relief program of Deferred Action for Childhood Arrivals (DACA). It is our hope and belief that the current announcement is not the conclusion of federal action in support of the courageous population of immigrants continually building and rebuilding our nation. Congress must act to reform our immigration system -- to embed shared and celebrated principles of anti-discrimination, family values, entrepreneurial initiative, and community commitment. However, should our nation continue to be saddled with a do-nothing Congress – or worse, afflicted by a Know-Nothing Congress – we can and should expect further administrative action to protect millions of equally valued immigrants from the daily risk of uprooting and detention," said Thomas A. Saenz, MALDEF President and General Counsel.
To hear more voices from NHLA Leadership on the subject, please click here.
Detention, Deportation, and Devastation: The Disproportionate Effect of Deportations on the Latino Community
The National Hispanic Leadership Agenda (NHLA), a coalition of 37 of the nation's preeminent Latino organizations, today released a report, "Detention, Deportation, and Devastation: The Disproportionate Effect of Deportations on the Latino Community," in conjunction with the Mexican American Legal Defense and Educational Fund (MALDEF) and the National Day Laborer Organizing Network (NDLON).
The report -- now available via this link -- assesses the record-breaking deportation rate of the last six years, its particular devastating impact on vulnerable Latino families and upon the larger national Latino community, and the path forward to a fair and just immigration policy.
Among the striking statistics released:
In 2013, 96.7 percent of all deportations (356,303 people) were of Latino descent.
When the Administration reaches 2 million deportations mark -- likely later this year -- the number of Latino deportees will equal the populations of Wyoming, Vermont and North Dakota combined.
Over 5.5 million children have a parent who is undocumented, and 4.5 million of those children are U.S. citizens.
Between 2010 and 2012, the Administration deported more than 200,000 individuals with U.S. citizen children.
NHLA also announced the next phase of its "Latinos United for Immigration Reform" campaign, which will target 30 members of the U.S. House of Representatives and House leadership. Through in-district events, like town halls and district visits; op-eds; social media and other efforts, NHLA will be urging members representing significant Latino populations to support passage of a fair and just immigration reform bill in the U.S. House of Representatives this year.
Please sign up via the form above to receive updates on our campaign's upcoming actions and take action via the links below to contact the President and Congress and to share your story about why we need reform this year.